Sadly, there's no computer program or app in the world just yet that is capable of fully decluttering and organizing your home for you. But while you might need to wait a few more years until robots are capable of doing your chores on your behalf, the web is home to a slew of great apps that can help to make the process that much easier. Here are 7 tried and true home decluttering apps to try out the next time you need some organization in your life!
Sortly
If you're keen on becoming hyper-organized, this might be the perfect app for you. Sortly allows you to create visual inventories by snapping photos and scanning QR codes on your items. After you have done this, you can sort the pics into folders according to location. You can even tag certain belongings for easier searches, and use Sortly to keep an inventory of your boxes during a move.
Decluttr
Selling old CDs, video games and DVDs doesn't have to take days if you employ the help of Decluttr. This app contains a unique barcode scanner that figures out exactly how much your items are worth. Shipping is also free, allowing you to get rid of the things wasting space in your home. All your earnings can be put towards digital downloads, and better still, you'll be left with so much more time to explore the internet's best racing betting sites!
Tody
This intelligent app will keep you and your family motivated to clean up more often by allowing you to create to-do lists and tasks according to frequency. It will remind you when a chore is overdue and even remember when certain items were last cleaned. Family members can track their completed chores on Tody too, so you can easily see who has been diligent and who has been slacking. Genius.
ChoreMonster
You might not be able to get your kids to eat their broccoli, but getting them to clean is an excellent start. ChoreMonster makes chores much more fun for younger users by turning them all into games, complete with customizable rewards that you can set for completion. Kids can also log into the app and track their own tasks and rewards, helping to teach them how to take initiative when it comes to their homes.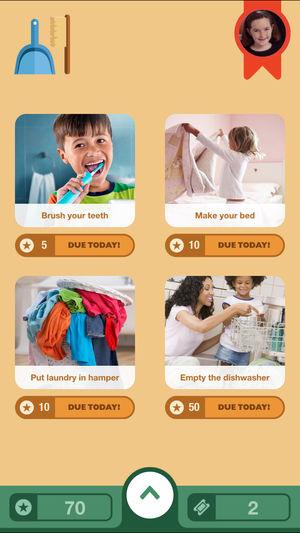 OfferUp
Need to get rid of something bulky that takes up far too much room? Just take a picture of it and upload it onto OfferUp with a price and some details. Your post will be shown to users living in your vicinity, who can contact you to negotiate prices and collection times through the app itself. This makes it much safer for you, and OfferUp even has a profile format with ratings from previous transactions that quickly tell you who can be trusted thereon.
Handy
Schedule a date and time for a cleaning professional to come and tidy up your home with Handy. This app tracks the progress of your cleaning sessions to the T, and you can pay easily direct from your phone using a variety of secure methods.
Yerdle
If you want to swap one of your items for something cool from someone else, use this app. The element of sustainability in swapping items is undeniable, and every time you do, you'll also earn Yerdle Reuse Dollars to spend on the app itself. The items on Yerdle are also only slightly used at best, and typically come from renowned brands to ensure quality for you.